Fostering partnerships in the community and beyond
Independent schools must never become isolated from the community in which they exist. We believe that St Joseph's has an important role to play in the wider community, and we ensure that the College is  fully committed to fostering partnerships in the local area and beyond.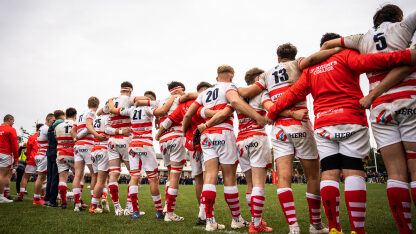 Good neighbours, mentors and role members: we value them and emulate them.
We want all St Joseph's students to be dependable, tolerant and kind – ready to meet the world with a smile and a handshake.
No school is an island. St Joseph's is proud of its place in the town of Ipswich and the beautiful county of Suffolk. We are conscious of the responsibility we bear to be a welcome part of the landscape. Partnerships – ranging from headline agreements with top sports clubs to everyday contracts with suppliers and tradespeople – are important in both cementing a sense of belonging and maintaining mutually beneficial relationships.
Our business partners include, Civil Service Netball, Copdock Cricket, Little Kickers and DanceEast. We collaborate with Ealing Trailfinders, Northampton Saints and Ipswich Town Football Club, the official education partner for the U18 Academy. NSX Adventure provides our residential summer schools, and our external lettings include Achilles Youth FC, Ipswich Athletics, East Bergholt CC and local church groups.
Service and charity work is important. Beneficiaries are both international, including Porridge and Pens, Ghana, Comic Relief and Save the Children, and local, including Children in Need, Macmillan Cancer Support, St Elizabeth Hospice, East Anglia's Children's Hospices and East Anglian Air Ambulance.
Our community links continue to expand, and we welcome approaches from other interested partners. If you would like to explore possible links with the College, please contact us.
All ages
Whole School
Open Day
Saturday 2 March 2024
Contact us